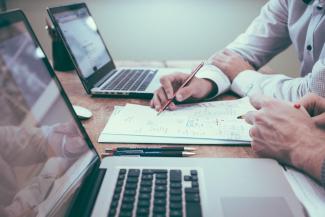 Are you ready to start investing? Investing in the stock market may be rewarding, but not without risk. If you're particularly risk averse, you may want to consider another method of investing, or start the investment process slowly. This can also be true for older  investors who do not have the time or inclination to wait out a downswing.
But if you're fresh out of college, or younger than 40, the stock market should be a consideration for where you invest your money, as you'll have time to ride out any dips, as well as better gauge overall stock performance over a long period of time. If you're still on the ropes about getting started in the stock market, here are a few tips that may help:
Do your research. What does the economy look like right now? What about long-term? While there is no crystal ball that will tell you whether your investment will pay dividends or lose its value altogether, you can learn a lot by starting to pay attention to the health of the current market. Find out how stocks are trading, and what stocks are earning dividends and use that knowledge to make better informed decisions about where you want to place your money. You'll also want to be a bit more cautious if you hear talk about a looming recession. 
Diversifying your investment purchases can help balance out your portfolio and help protect you from the full effects of a market dip in a particular industry. For instance, if all of your money goes towards purchasing technology stock, should the tech market drop, all of your stocks will be affected, instead of just a few. Look into various areas that you are interested in and invest in those.
Hold onto your stocks. While the market can be volatile at times, riding out the volatility is much more important than repeatedly buying and selling. 
When purchasing stocks, consider other types of investments as well. This can help balance the roller coaster that the stock market can be. By investing some of your money in other areas, your portfolio will be better balanced.
Talk to an investment professional. While many new investors turn to robo-advisors when purchasing stocks for the first time, it can be immensely beneficial to speak with a financial professional, who can guide you through the intricacies of investing. Make the time for an initial consultation. 
Doing your research, speaking to a financial professional, and building your portfolio slowly will give you the confidence to invest wisely.
Investing involves risk including the risk of loss. Past performance is no guarantee of future success.
*This content is developed from sources believed to be providing accurate information. The information provided is not written or intended as tax or legal advice and may not be relied on for purposes of avoiding any Federal tax penalties. Individuals are encouraged to seek advice from their own tax or legal counsel. Neither the information presented nor any opinion expressed constitutes a representation by us of a specific investment or the purchase or sale of any securities. Asset allocation and diversification do not ensure a profit or protect against loss in declining markets. This material was developed and produced by Advisor Websites to provide information on a topic that may be of interest. Copyright 2023 Advisor Websites.